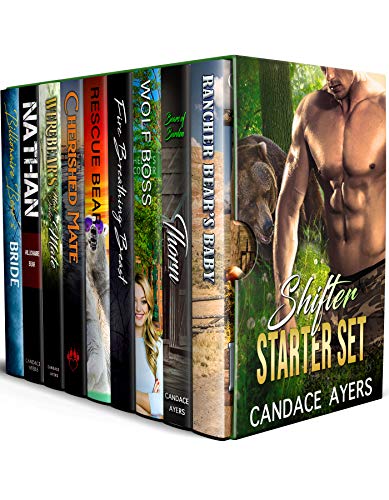 Shifter Starter Set
Shifter Romance Collection (Shifter Mating)
Alpha shifters—dragons, bears, wolves, and soul-deep mating bonds…
If you like…
•Romantic Comedy
•Shifters
•Novellas
•Steamy Romance
Then you'll LOVE these shifter novellas!
CONTAINS:
Rancher Bear's Baby (Rancher Bears)
Her life is a country song, no job, cheating boyfriend, pregnant by a one-night stand. What else can go wrong?
THORN (Bears of Burden)
In Burden, Texas, Hawthorne Canton is livin' easy. This good ol' bear sure ain't thinking about getting hitched. Until fate comes knocking.
Wolf Boss (She-Shifters of Hell's Corner)
The last thing single mom Carter Ray wants is a mate, certainly one who doesn't even seem to be available!
Fire Breathing Beast (Dragons of the Bayou)
Sky Broussard has finally met a man who lights her fire. Too bad he's off his rocker. He thinks he's a dragon, calls her his mate, follows her home, and refuses to leave her side.
Rescue Bear (P.O.L.A.R.)
P.O.L.A.R. is a specialized, private operations task force of polar bear shifters whose home base was Siberia, until they pissed somebody off and got re-assigned to the sunny Florida Keys
Cherished Mate (Cybermates)
Gray Lowe is not signing up for a silly mate matching service. He's already found his mate, only her wolf is so traumatized that she doesn't even recognize her own mate when she meets him.
Werebear's Mail Order Mate (Jackson Valley Shifters)
Chloe Holt loves her dad, but she needs a mom. So, armed with her dad's credit card, the ten-year-old finds the two of them the perfect wife and mother—on a mail order bride website!
Nathan: Billionaire Bear (Shifters of Denver)
Chloe is a natural matchmaker without a Mr. Right of her own. When she meets the bear-shifting CEO of a Fortune 500 company, the matchmaker finds her match—in more ways than one.
Billionaire Bear's Bride (Kodiak Island Shifters)
When Colton Sterling—adrenaline junkie, self-made billionaire, and Kodiak grizzly bear shifter—meets his mate, he has just 24 hours to make her fall in love with him. Can he rise to the challenge?