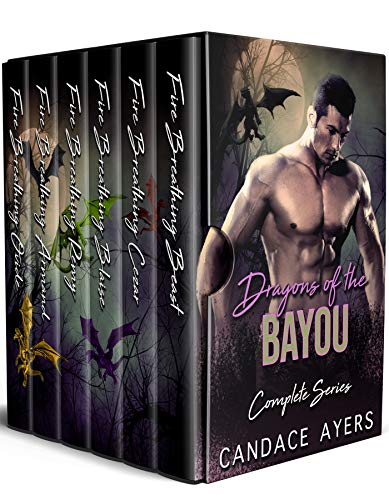 Dragons of the Bayou
Something's lurking in the swamplands of the Deep South.
These massive dragons have been exiled from their homeland. Each must find his one true mate before it's too late.
Fire Breathing Beast
Sky finally meets Mr.Right. but he's off his rocker! He thinks he's a dragon, calls her his mate, and follows her home. On the other hand, she might finally lose her V-card.
Fire Breathing Cezar
To woo his mate, Cezar must fight his primal instincts and behave in the ways of a human male. But in the end, it may take the fiery passion of his dragon to win her over.
Fire Breathing Blaise
Chyna is on a mission to lose her virginity—no strings attached. Blaise wants strings. Blaise wants every string. And he'll do whatever it takes to lasso her in.
Fire Breathing Remy
The night before Lennox's wedding, a huge, red creature crashes to the ground and transforms into a hot, naked guy who swears they belong together. But Lennox can't call off her wedding now, can she?
Fire Breathing Armand
"Angel of Death" is cursed. Everyone around her dies. Armand is willing to sacrifice eternal life if it means spending his last days with Angel. But if he dies, Angel will take the blame.
Fire Breathing Ovide
When an accidentally-on-purpose claiming mark links Ovide and Margo for eternity, can they break down the walls they've both constructed around their hearts and enjoy a future together?